In the current globalized economy, small business owners face many challenges. Most of these challenges arise out of the smaller scale of their business, which result in smaller budgets for growing the business.
Marketing budget is not an exception to this.
For small business marketers, each dollar matters
Before you can sell your products and services, you need to advertise them to your customers. That requires spending money on different marketing channels.
Most marketing channels work as economies of scale. Big budget marketers can take advantage of the bigger scale, to spend aggressively and create a brand name. That is how big businesses have a huge advantage when going through most traditional marketing channels.
Comparatively, online marketing channels seem to be more cost effective and affordable, even to the small businesses.
But even online marketing channels are getting crowded and more expensive in recent years. Some of the online marketing channels like Google ads, mass email marketing campaigns have been around for quite a while. So much so that they have now become the traditional marketing channels. Big businesses can easily outspend their competitors here to dominate this space.
As Google ads become more mainstream and crowded, they are also getting more and more expensive. If a bigger competitor is flooding this space with marketing dollars and you don't have a big enough marketing budget, your marketing dollars can be easily drowned out without significant returns.
So as a small business owner or marketer, what do you do to
get the best value? How do you effectively use your budget to reach your
potential customers?
Identify your strengths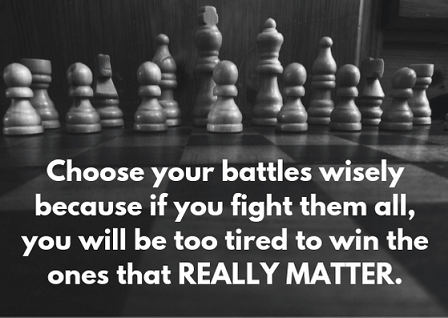 If you run a small business with limited resources, you MUST treat your resources with more care than your competitors. Each marketing dollar should be more valuable to you than to your competitors. Because, you have a much limited supply. Each marketing dollar that you spend, MUST be used productively to reach potential customers.
This would be possible only if most of your marketing budget is invested in the most productive marketing channels.
In other words, you must identify your strengths in the marketing game and then play to those strengths.
When you make a conscious effort to identify your strengths,
you may also come across some new innovative marketing channels where you can
have an upper hand over your better funded competitors.
Play to your strengths
Knowing your strengths will tell the direction where your marketing efforts should be headed.
But to ensure that your marketing team keeps moving in the same direction, you need a marketing strategy for the longer term. Marketing strategy gives you a high level action plan for achieving a long term goal.
Strategy is especially important in the dynamic landscape of online marketing. Online marketers witness emergence of new marketing tools and technologies on a regular basis.
In such changing landscape how do you decide which are the best tools or platforms? Which ones will benefit your brand in the long run?
This is when you need to refer to a marketing strategy. Examine your long term marketing goals in light of the new technologies. Then decide how to move ahead in the changed landscape – all the time keeping an eye on long term objectives.
A marketing strategy will become your compass in this changing landscape. 
Effective online marketing strategy for small businesses
But if you develop an online marketing strategy for this dynamic landscape and make an effort to follow it, you can also achieve good returns from your marketing campaigns.
An effective online marketing strategy for small businesses should be framed on following lines.
Invest time and effort to identify your strengths as a marketer – it could be original content, social media campaigns, rich media campaigns (photos, videos etc.)
Find marketing channels that can –

play to your strengths
aren't very crowded (yet)
are cheaper (as they're not crowded yet)

Allocate a smaller part of your budge to experiment with these new marketing channels, which majority of your marketing budget is still allocated to traditional channels which can bring proven results. For example, 80% for regular marketing campaigns and 20% for experimentation.
When experiments with a new marketing channel start to give you good results, put that channel in the 80% bracket. But still continue to spend your experimental budget (20%) on other new channels.
This strategy is an example. It will help a small business
to identify new marketing channels which can be leveraged against competition
to bring better results than the industry average.
But the same framework can be used and further
improvised to create your own marketing strategy which can play to your own
unique strengths.